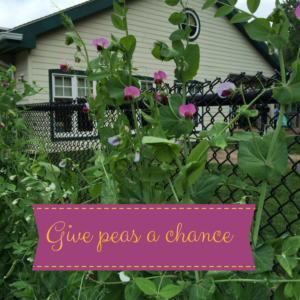 Peas are one of the first veggies in a spring garden. They are easy to grow and happy to climb a fence.  If you can manage to get them into the ground in mid to late March, you'll have a pea harvest before the end of the school year.
Peas are willing to put up with some chill. They can be planted in the ground as soon as the soil is no longer frozen. Simply use your finger to make a 1″ deep hole and pop a pea in. Plant plenty of peas, 2-4″ apart. They will take about 10 days to germinate and another 35-50 days until your harvesting your peas.
This delicious spring pea soup recipe is completely different from Split Pea soup. It is sweet and light and easy to make.  When working with kids, we usually use frozen sweet peas because when harvesting peas in the garden, the kids usually eat them all on the spot.
The bright green color of this soup inspires everyone that spring is here.
Spring Pea Soup
2 tablespoons olive oil
1 medium onion, finely chopped
3 1/2 cups vegetable or chicken broth
3 1/2 cups baby peas, fresh or frozen  (frozen work great!)
1 medium potato, peeled and finely diced
Salt and freshly-ground black pepper, to taste
1. In a medium soup-pot, melt the butter over low heat and stir in the onion. Partially cover the pot and allow the onions to sauté for 5 minutes.
2. Add vegetable stock, peas, potato, salt and pepper and bring to a bubbling simmer. Reduce heat a bit, cover the pot, and cook at a low simmer until the potato is tender, about 12 minutes.
3. Transfer the majority of the solids to a blender or food processor using a slotted spoon. Add a ladleful of broth, and process until smooth. Put the puree back into the pot and reheat, but do not allow to come to a boil. OR simply use an immersion blender. Garnish with herbs from below:
Lemon-Herb Garnish
Handful fresh parsley leaves
Handful fresh mint leaves
Zest from 1/2 lemon
Place the parsley and  mint in a mound on your chopping board. Using the finest-size grater, grate the zest on top, and then chop everything finely. Sprinkle some of this mixture on top of your soup along with a dollop of plain yogurt or sour cream.