The weather has turned chilly, fall is finally here. Last night, after  my hubby grilled up a beer can chicken on the grill, I knew it was time to start making soup. Good soup starts with a good stock.  The best stock is made from real ingredients. My secret weapon for making outrageously easy and delicious stock is my slow cooker.
Two important ingredients in my stock are apple cider vinegar and sea vegetables. The vinegar helps to pull calcium out of the bones.  I add sea veggies for additional trace elements and  minerals. I use a blend of sea veggies from See Sells Seaweed who harvests seaweed off the coast of Maine.
Slow Cooker Chicken Stock
Ingredients:
carcass of roasted chicken
2 tablespoons apple cider vinegar
1 onion cut into quarters, skin included
1 carrot, coarsely chopped
a spoonful of sea vegetables (i.e. kombu or  wakame)
fresh filtered water
Load up the Slow Cooker, turn it on low, let it do it's job over night.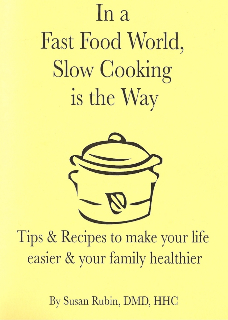 Want more super easy, super delicious Slow Cooking recipes? I created a short and sweet cookbooklet that is filled with some of my most favorite slow cooker recipes.  In keeping with the slow theme, its not an instant download E-book, its a small simple booklet that I sent to you via snail mail (aka the US Postal Service). You can order it on my website by visiting my products page, click HERE for more info