When it comes to recipes, I'm an independent minded kind of person.  I consider recipes a starting off place. A suggestion. From there, I like to improvise.  This is why many of my recipes, more than 70 on this website, seem to be a bit vague to those who are rule followers.
This is the second summer where I've been improvising on this version of Vietnamese Noodle Salad and folks are asking me for the recipe, so I'll put it out there.  I encourage you to play with the flavors and textures, make it your own.
The blend of aromatic herbs is the secret formula that gives this salad a bright Vietnamese flavor. A combination of basil, mint and cilantro. All of which I am fortunate to be growing in my yard. You can do it too, just get some nice sized pots to put them in, you'll never have to pay for herbs again.  You can use any combination of these three herbs.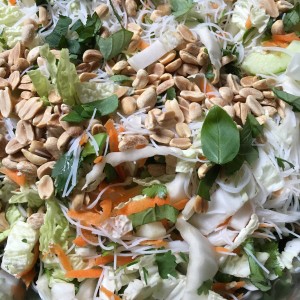 Rubin Rodeo Vietnamese Noodle Salad.
1 head napa cabbage, thinly sliced
1 medium carrot, shredded or cut in matchsticks
1 cucumber, cut in half, seeded and finely sliced
Got other crunchy veggies around? Add them! Sugar snap peas, red pepper work nicely
fresh basil, cilantro, mint   Chop up the herbs, any combination you like, and toss with the veggies. If cilantro tastes like soap to you, omit it.
8 ounces cooked meat or shrimp  This is a great opportunity to use leftover grilled chicken or steak. Chop into small bites.
8 ounces thin rice noodles, cooked according to package directions.
You can either place noodles into the bottom of bowls and layer the veggies, meat and peanuts on top. Or you can toss the herbs, veggies, meat and noodles all together.
1/2 cup unsalted peanuts, chopped. Garnish with the peanuts
The dressing: 
3 tablespoons fish sauce
3 tablespoons fresh squeezed lime juice (2 limes)
1 clove garlic, finely minced
2 tablespoons maple syrup, or brown sugar
1 fresh chile pepper, or 1 teaspoon pepper flakes
4 or more tablespoons water
Whisk the ingredients together, adjust for your tastes. Want it sweeter? Add more sugar or maple syrup. Too pungent? Add more water. More heat? Add more chile pepper.
Dress this salad at the last minute for peak freshness.