Guest blogger Melanie Rubin shares a taste of her food filled life. Enjoy!
This quick and easy salsa verde is truly a party pleaser. Last year I whipped up a batch and brought it to a superbowl party where I didn't know a lot of people. It was a huge hit and I made friends effortlessly. Now I rarely attend parties without it!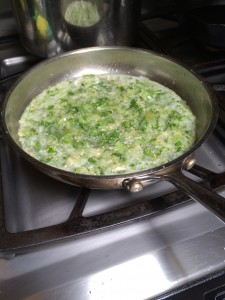 Ingredients:
1lb tomatillos, peeled and cut into quarters
1 shallot, chopped
2 cloves of garlic, finely minced
juice of 1 lime
1 serrano pepper, finely chopped
1/2 cup water
1 teaspoon cumin
handful of cilantro
pinch of salt
Procedure:
Put all ingredients except for the cumin into the blender and pulse until liquid. There will still be some pulpy chunks, this is normal.
Pour the mix into a large pan on the stove and simmer low for 15 minutes stirring every minute or two. Over this time the excess water will steam out.
At the end, stir in the cumin and cilantro to your liking.
VOILA!