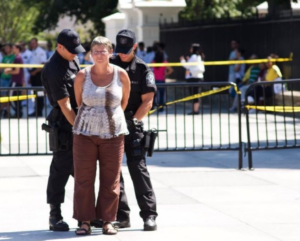 I've spent many years standing up against the KXL pipeline, it was a long convoluted battle that took many years. My arrest in front of the White House back in August of 2011 was a turning point in my environmental work. Once you put your body on the line and risk arrest, the energy shifts.  I followed the ins and outs of tar sands and other extreme forms of energy for many years, learning about aquifers, understanding the way our laws work and learning more about our country's indigenous roots.  I did a big happy dance once the KXL pipeline project was finally defeated.
This morning I woke up to learn that the current president would be signing an executive order giving the green light to both the KXL and the Dakota Access pipeline projects.  My despair hit an all time low. They way I see it, his executive order is a declaration of war for future life on earth.
Bill McKibben did the math a few years back. We have to keep 80% of known fossil fuels in the ground in order to avoid runaway catastrophic climate change. With the new president's actions today, we are doomed.
So tonight I will travel to a march. There will be little or no pink pussy hats. It will be cold, and rainy. There will be no permit to march. But we will. My deep despair for the planet requires I go. Action is the antidote to despair.
What can you do?
You can join 350.org's Pledge of Resistance 
You can find look for/create a rapid response action in your own town or city. Use the hashtags #NoDAPL or #NoKXL and you'll find lots.
You can share Bill McKibben's piece on the math with folks who might not know how close we are. http://www.rollingstone.com/politics/news/global-warmings-terrifying-new-math-20120719