March 17th, St Patricks Day, is the traditional planting day for peas.
You'll definitely want to give peas a chance because they are one of the easiest vegetables to grow. There are three different types: Snow peas that make large edible pods with immature peas,  Snap or Sugar Snaps that have full size peas and an edible pod and Standard peas  in which you don't eat the pod and they are grown just for the peas inside the pod.  My personal favorite are Sugar Snaps because they are super sweet, and kids love to eat them right on the playground. Fast food at it's finest!
Here in NY, peas are the first seeds of the garden season that are directly planted into our cool late winter soil. They are ideal for school garden projects in which the school year ends in mid June. The K-12 school year does not always mesh up with the garden year, but peas will climb fences in your playground and will deliver plenty if you plant enough before the end of March. They take about 2 months to get to the harvest stage.
Plant peas in a sunny spot an inch or two deep and an inch apart. Plant plenty of them! Once they sprout, give the peas something to grab onto: some string, a trellis or even a chain link fence.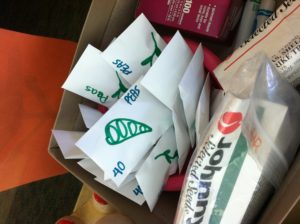 At Mount Kisco Child Care Center, the kids love to count out 8 peas, pop them into a decorated envelope and hand the packs of peas out as they march in the local St. Paddy's Day parade.
By the end of June, it will be too hot for the peas to thrive, they prefer cooler weather. As the plants turn brown and wilt, we'll pull them out and put them into our compost bins.  Another crop can be planted in August that will provide peas for the fall.
Besides eating them right off the vine, peas are delicious in many recipes. Pea pods are great in stir fries, and you can use fresh (or frozen) petite peas in a spring pea soup with a garnish of mint for extra zing.