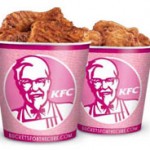 I've worked with countless cancer survivors in my private practice. They are some of the nicest people you would ever meet. Over the past ten years, I've had the good fortune to work with two wonderful groups in my community, Gilda's Club and Support Connection that do great work supporting those dealing with cancer and other chronic illness. I highly recommend donating to these fine organizations.
Those cancer survivors who know me and my work know how crazy upset I get when I see a stunt like this KFC Pink Buckets for Cancer! The Susan G. Komen foundation has partnered up with KFC who will donate 50 cents for every bucket of chicken purchased.  Fortunately Think Before You Pink has come up with an online petition to try to convince the Susan Komen Foundation to re-think their partnership with this junk food giant, you can sign their petition by clicking here.
Of course I signed the online petition, which in turn got me an automated letter from the Susan G. Komen Foundation. Here's what it says:
Thank you for your e-mail to us – we do appreciate you taking the time to tell us how you feel about this partnership. You should know that our partnership with KFC is designed to help reach millions of women we might not otherwise reach with breast health education and awareness messages which we consider critical to our mission. This additional outreach is made possible through KFC's 5,300 restaurants (about 900 of them in communities not yet served by a Komen Affiliate). This partnership also helps us to generate funding toward the $1.5 billion in research and community programs that Komen has funded over 30 years – programs that are literally saving women's lives through better treatments and early detection.


Our partnership focuses on healthy options at KFC – grilled chicken and vegetables, for example. Ultimately, we believe that the decision to maintain a well-balanced diet lies in the hands of the consumer. KFC provides tools to make those choices, by providing a healthy choice menu and advice on its website on how consumers can limit fat and calorie consumption in its products. We appreciate your concern and thank you for sharing it with us.
Very truly yours,

Margo K. Lucero
Director, Global Corporate Relations
Susan G. Komen for the Cure(r)
My automated online click with Think Before You Pink resulted in an automated email response. I'm sure the folks at Susan Komen Foundation are quantifying the onslaught of online responses, but so far they are still promoting pink buckets of fried chicken. Right now, the best thing to do to get Susan's attention is to get out your good stationary and hand write her foundation a nice (angry) note. Good old snail mail will do more to change this foundation's mind than an online petition.
Here's the address:
Headquarters
5005 LBJ Freeway, Suite 250
Dallas, TX 75244
Let's talk about this food for a minute.  If you want to check the ingredients of KFC's products, you'll have to click on this "nutrition page" and then click on the box on the left that says Ingredient Statement. You'll need your reading glasses, but do take the time to read them. You'll be shocked at all the MSG, hydrogenated cottonseed oils and soybean oils that goes into most of their products. I've written about Cotton ( It's not a food!) and about their grilled chicken back when Oprah decided to promote free buckets of the stuff.
I know that you know better than to eat fast food like KFC if you want to be healthy. It's not about the calories, or the "tools" on their website, it's about ingredients. Even KFC's green beans are coated with MSG! (you'll see in on the ingredient list online, I'm not making this up!). Please take the time to tell Susan Komen that they are misleading people into believing that these pink buckets of chicken are somehow health supportive.  Tell Susan Komen to hire me! I'd be happy to teach them about how to make health supportive decisions that will benefit their Foundation and the people they serve.