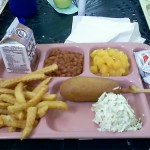 She is fed up with school food and is taking it personally. Very personally.  An unidentified teacher somewhere in the mid-west has started a horrifying stunt. She will be eating (and photographing) her school's lunch every day this year.  I greatly admire her bravery to put her health on the line to make a point.  School lunch in the USA is in need of a huge overhaul.
Thanks to the large number of concerned parents and health professionals here in the blogosphere, I expect that her  journey, which is reminiscent of  Morgan Spurlock's Supersize Me film, will grow a huge following. The timing couldn't be better.  The nation is starting to focus on the state of school lunch as  Congress is expected to update child nutrition programs this spring.  The re-authorization of the Child Nutrition Act will impact the health of 31 million children.
This  school lunch conversation needs to go beyond calorie counts and fat grams. We all know that a picture is worth a thousand words, the photos being uploaded daily to the Fed Up: School Lunch Project blog tell a lot. Viewing today's posted lunch of a "bagel dog" along with some pale anemic looking tater tots made my stomach queasy and makes me wonder more about the health and well being of  kids who are eating this every day.
Our kids deserve real food in schools, not packaged processed chemicalized fare. We need to teach them more than just the USDA food pyramid by incorporating school gardens and food based education through out the curriculum. This is a most worthwhile investment in their future. Real food is preventative healthcare which will save all of us enormous amounts of money in the future.
What can you do to make some waves like this teacher?
Have kids and parents write letters: Slow Food's Time for Lunch campaign offers some great tools that will help you to get this message across.  Letter writing can have a big impact that legislators can't ignore.  Legislators who already understand the importance of better school food can refer to letters as evidence of support.
Visit your kids cafeteria and have some lunch. Better School Food has an action plan and a handy checklist that you can bring to the school cafeteria. Bring your camera to lunch and send the photos to your legislator. After all, a picture is worth a thousand words.