I'm not a fan of reality TV, never was and never will be. I find it embarrassing that we now have a reality TV star as president. I don't believe people should be making money off of a reality TV show while they're President of the US, its a huge conflict of interest. But that is happening right now. As executive producer of the show, he will be making five figures for each episode.
So what to do about it? Boycott!
Boycotts are a tool for holding a company's accountable for actions.  Boycotts directly threaten sales so company boss' take them more seriously than letter writing campaigns or lobbying.
When you boycott, its not about just not buying something. To be effective, boycotts need to be visible and vocal. You have to let the world know that you're taking a stand and boycotting.  We are using Twitter as a playground to call out NBC and the 12 corporate sponsors of Celebrity Apprentice. We're telling them daily that we will not buy their products and not watch their TV show.
Our goal is to boycott, name and call out the sponsors and their products until they drop Celebrity Apprentice.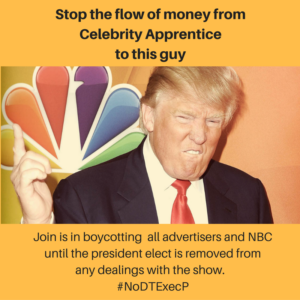 These 12 brands that will be featured on the upcoming season of the show: Tyra Beauty, Trident, Welch's, King's Hawaiian, See's Candies, Lorissa's Kitchen, Universal Studios Hollywood, the L.A. Clippers, QVC, The Honest Company and Carnival Corporation.
You can call them, or tweet at them. Let these companies know that as long as the President has an Executive Producer role in the show you won't be buying their products or watching the show. And you'll be encouraging all of your friends to do the same.
Meanwhile Adweek reports : NBCUniversal said that interest in Celebrity Apprentice is as strong as ever, and buyers don't expect any Trump-related blowback from audiences or advertisers this season as a result of Trump's frequently controversial behavior during and after the presidential election.
Thanks to the good folks over at #GrabYourWallet I've curated this list of the Celebrity Apprentice sponsor's Twitter handles and corporate HQ phone numbers. If you're not Twitter savvy, you can call these numbers and tell the companies that you won't be supporting their products as long as the president is executive producer of Celebrity Apprentice
Welch's @Welchs 978-371-1000
QVC @QVC  610-701-1000
Trident Gum @tridentgum 800-524-2854
Universal Studios Hollywood @UniStudios 818-777-1000
LA Clippers @LAClippers 213-742-7500
King's Hawaiian @KingsHawaiian 310-533-3250
Tyra Beauty @TYRABeauty 310-277-4657
See's Candies @seescandies 310-604-6200
The Honest Company @Honest 310-917-9199
Lorissa's Kitchen @LorissasKitchen 715-466-6662
Carnival Corporation @CarnivalPLC (800) 764-7419
And don't forget NBC!  @ApprenticeNBC is the Twitter address of this show.
Hashtags # (the pound sign)  turns any word or group of words that directly follow it into a searchable link. This allows you to track discussion topics based on those keywords. For this boycott, if you wanted to post about #CelebrityApprentice, you would include #NoDTExecP in your tweet to join the conversation. You can click on a hashtag to see all the posts that mention the subject in real time.
We're using #NoDTExecP which is short for "No Donald Trump Executive Producer as the hash tag for this action. This way you can use this hashtag to find other Tweets and re-Tweet them.
We're also using hashtags  #CelebrityApprentice and #ConflictOfInterest to help tell the story in 140 characters of less.
Feel free to join our Boycott Celebrity Apprentice Twitter Action Group on Facebook. We'll be helping those new to Twitter with sample Tweets and other tips.